Discover your second EXBERRY® surprise!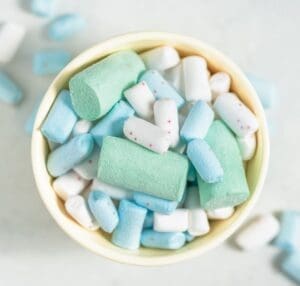 EXBERRY® Crunchy Marshmallows
These sensational marshmallows are designed to satisfy all the senses. They feature encapsulated flavors from Aromsa and a wonderful crunchy texture, while our plant-based EXBERRY® colors are used to deliver the visual impact.
Technical Data – Recipe & Working Instructions
Working instructions
Part 1:

Mix protein powder with water in a beaker and let it soak

Part 2:

Mix pectin with granulated sugar in a bowl
Mix pectin with granulated sugar in a bowl

Part 3 (for batch cooking):

Put water into the vessel of the cooker
Add glucose syrup, sorbitol syrup, fructose and the granulated sugar and cook the mass to 90°C
Add the pectin sugar mix and heat it up to 95°C

Part 4 (3kg batch):

Add the protein solution, EXBERRY® Coloring Foods and Aromsa flavors to the pectin solution at 75°C
For aeration fill the colored mass into the hopper of the aeration line
Extrude the marshmallows on trays dusted with dextrose and cut them into same sized pieces
Let marshmallows dry overnight
   The Color
These crunchy marshmallows are colored using EXBERRY® Coloring Foods. These concentrates are made from edible fruit, vegetables, and plants using traditional physical processing methods. They are valued worldwide for their ease of use, brilliance, performance, and the complete vertical integration of the supply chain, which ensures full traceability and stock stability. In applying EXBERRY® products, manufacturers are assured to receive highly professional support ranging from strategic product development to production integration and regulatory advice.
  The Flavor
Due to the their special structure, flavor-filled microcapsules release their unique flavors to the product, breaking in the mouth by chewing. The flavor release occurs strong and striking.
Kapsarom® microcapsules add unique qualities to many products such as chewing gums, chocolates, toffees, marshmallows and many more.