Discover your third EXBERRY® surprise!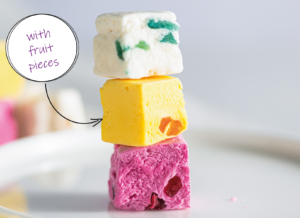 EXBERRY® Pop Nougat
These fun pop nougat bites are created with plant-based EXBERRY® colors and contain real fruit pieces.
Technical Data – Recipe & Working Instructions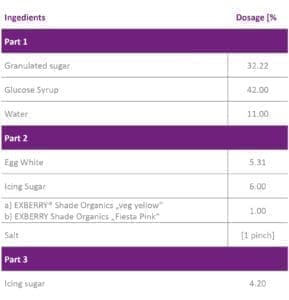 Working instructions
Part 1
Add all ingredients to a pan and cook to 135°C
Part 2
Whisk egg white, icing sugar and salt until stiff peaks are formed
Weigh the whipped egg into a bowl
Pour the hot sugar syrup (from part 1) onto the whipped egg and mix at low speed until the mass thickens
Add EXBERRY® while mixing
Part 3
Add the icing sugar and dried fruit to the mass
Fill the mass into moulds and let it set for 24 hours
pH: 5.5
The Colors
These nougat bites are colored using EXBERRY® Coloring Foods.
The concentrates are valued worldwide for their ease of use, brilliance, performance and the complete vertical integration of the supply chain, which ensures full traceability and stock stability.
In applying EXBERRY® products, manufacturers are assured to receive highly professional support ranging from strategic product development to production integration and regulatory advice.
By the way, did you know that all our EXBERRY® products are: