The new generation of consumers is looking for eye-catching products made with natural ingredients. This Healthy Hedonism trend is defining a new visual language for healthy and sustainable products.
Here, we explore three exciting color trends in bakery and pastry – along with innovative concepts showing how our plant-based EXBERRY® concentrates can bring them to life.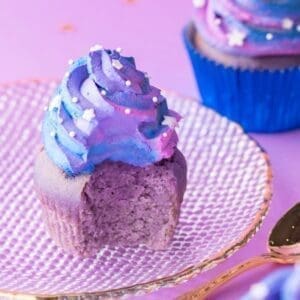 COSMIC COLORS
This trend is all about creating a sensory experience full of adventure. It features intense hues such as blacks, grays, dark blues, and deep purples in gradients to evoke a sense of mystery and creativity.
This vegan-friendly cupcake concept uses EXBERRY® to take you on a cosmic journey with deep shades of blue and purple. As these colors are rarely used in the bakery sector, they create surprise and invite discovery. This cupcake has been created without additives to meet the growing demand for products with natural, healthier ingredients. Under EU regulations, the colors can be described on the label in a way that provides instant reassurance: "Concentrates (spirulina, carrot, hibiscus, beetroot, sweet potato, radish, cherry, apple)."
COMFORTING AND NATURAL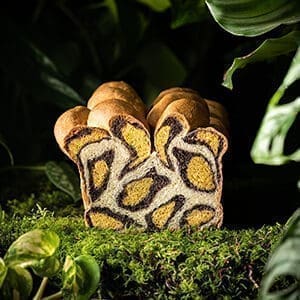 With gradients of yellow, orange, ochre, green and brown, this theme explores authenticity and naturalness with tones that evoke foliage, earth, and seasonal fruits. The color scheme is about develop beautiful, striking products while maintaining their naturality, creating a soothing, comforting and healthy image.
This organic "jungle bread" concept comes to life when it is cut open. It uses EXBERRY® Organics liquids and powders to create its leopard-like pattern and tones. The colors are certified organic in accordance with EU and USA regulations and can be listed simply as "concentrates (carrot, blueberry, turmeric, spirulina, apple)" in the EU.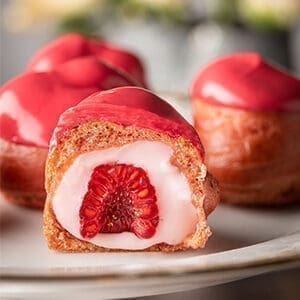 ELECTRIC COLORS
Following the pandemic, consumers want joy and excitement. The electric color trend is all about using bright, cheerful, and contrasting shades to create a "positive nostalgia" vibe with a touch of originality.
This better-for-you Ispahan choux pastry concept is made with reduced sugar. It has a lychee flavor with rose cream and fresh raspberry, taking its inspiration from the Ispahan macarons and entremets created by Pierre Hermé and Ladurée. Its red and pink shades symbolize passion and love and create a nuanced contrast through tone-on-tone colors. In the EU, the colors used to create this Ispahan choux pastry can be described as "concentrates (sweet potato, carrots, safflower, lemon, beetroot)." The colors also contain no added sugars so provide an ideal choice for "no added sugar" products.
Click here to get in touch and discover how our plant-based EXBERRY® colors can take your products to the next level.