An Interview with Marty Gil, Technical Account Manager
Where are you from?
I'm originally from San Jose, California. I stayed close to home. I went to the University of California in Davis and I joined GNT in 2004. I moved to New York for a year to learn the business side of things but then I moved back to the Bay Area. I live in Walnut Creek, about an hour and a half from San Jose.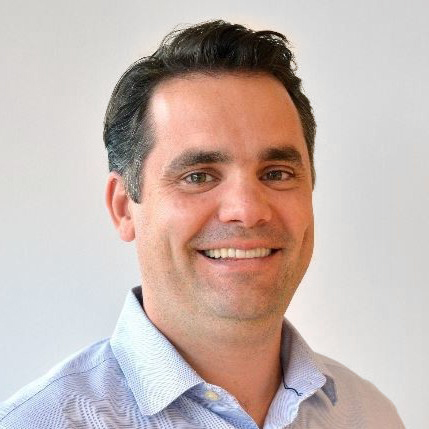 What do you love most about California and what do you like to do in your free time?
Our family has deep roots in California, we are fourth generation, and what I love most is that my family is here but there are so many things to love about this state. We're about an hour from the Pacific Ocean and three hours from the mountains of Lake Tahoe and Yosemite. We have three kids so it's also nice to be so close to Disneyland, although I think I like it even more than they do! We love to hike on the weekends and get outside as much as possible. Like so many others, we adopted a dog during the pandemic. Even though she's five years old, she's very energetic so it's nice to be able to hit the trail with her. I also love to cook. It's a big passion of mine. One of my favorite cuisines is Mexican and you really can't find better Mexican food in America than in California. My sister, Christina Olivarez, is one of GNT's Corporate Executive Chefs so as you can imagine, when we get together, the conversation always revolves around color and cooking!
What do you do at GNT and what are your favorite aspects of the job?
I'm a key account manager and like everyone at GNT, I wear many hats. My role often involves working directly with our customers, which I really enjoy. I'm so inspired by our customers. My position also involves driving projects ahead to a sale and then supporting them along the way. It's helpful that I have a product development and food science background. Having that technical expertise really helps me meet our customers at their level and reduces the learning curve because we are speaking the same language right from the get-go. Another aspect of my job that I love is being a part of a world-class team and accomplishing something as a team. I love being able to solve any challenge, no matter how complex, that our customers might bring to us. Our customers are the biggest food and beverage manufacturers in the industry with offices located in every part of the world. I'm so inspired by everything my colleagues bring to the table and by our incredible customers. I learn something new from them virtually every day.
Can you offer a few examples of conversations you have with your customers about color?
Of course, one of the conversations we always have with customers is from a technical perspective, such as working with them to overcome manufacturing obstacles they might be experiencing. But we also talk to them about other aspects of color's role in their application development. I see color almost as a living thing with its own ecosystem, its own unique story. We talk with our customers about our vertically integrated supply chain, the kind of emotion a specific color can inspire in a consumer, the different things today's modern consumer is looking for in a color such as being plant-based and good for their health, and ultimately, how critical color is from the very beginning of a product's development. Color should never be an afterthought. Color is powerful and can contribute so much to a product's success.
What are some of the specific challenges your customers are experiencing as a result of the pandemic and how has GNT helped them overcome these obstacles?
Like virtually every company around the world, the supply chain issues we've experienced at such an unprecedented, global scale have affected GNT. But what I've seen that I find really awesome is that the foundation we've built as a company over the past forty-plus years has enabled us to overcome these issues in a way that has had little impact on our customers. It's been such a challenging time but seeing how resilient we are as a company and how we have been able to see our customers through such a difficult time has been incredibly fulfilling.
What's on the horizon at GNT that you're most excited about?
I'm really excited about our new Warehouse and Technical & Culinary Experience Center that we're opening up this year just outside of Charlotte, North Carolina. It's going to give us the opportunity to collaborate with our customers in such an impactful and productive way. It's going to further solidify GNT's position as the leader in Coloring Foods and showcase why we set the gold standard in the food and beverage industry.
Do you have a favorite EXBERRY® by GNT color?
I do indeed. It's EXBERRY® Shade Brilliant Pink. It's such a unique color and is so versatile. I love what it can do in an application. I love the sweet potatoes it's made from too. Our farmers definitely need to grow more of those sweet potatoes!
It's been a challenging time for everyone around the world. What are you looking forward to most in 2022?
What I'm really looking forward to is getting back to a place of normalcy. It's been so challenging for so many people and I deeply admire those who work on the front lines, in hospitals, in grocery stores, in restaurants. It's been so taxing and exhausting for everybody. What I'm really looking forward to is for everyone throughout the world to take a big collective breath together, to exhale at long last.